Why I Like The Dr. Demento Show
When I was a junior at Warren Central High School in Indianapolis, Indiana, my friends told me about a crazy radio show on WFBQ Sunday night. It was on from 10 PM until midnight. What I heard were songs like Frank Zappa's "Brown Shoes Don't Make It", Benny Bell's "I'm Going to Give My Girl A Goose For Thanksgiving", Mel Blanc's "The E I O Song", and the Roto Rooter Goodtime Christmas Band's "Martian March".
The above picture is the one I got when I joined the Dr. Demento Fan Club that year. I also got this nifty "Doctorate of Dementia". The T-shirt, alas, wore out long ago.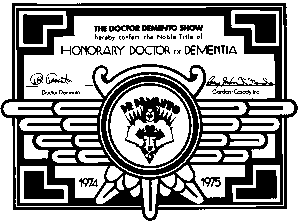 Click on the certificate to hear the fan club promo!
I started taping the show using the vacuum tube guts from an old console stereo as a tuner, and a decrepid trash-barrel-recovered AIWA portable cassete recorder, compiling my favorites onto convenient 8-track tapes to listen to in my parents car.
Dr. Demento helped to keep me, a strait-laced Latter-Day Saint, from being utterly normal. But he also opened my ears to many different musical styles, such as calypso, jazz and blues.
His show includes not only novelty records spanning the entire history of recorded music, but music that is novel just because of it's age. His comments provide a musical education; the songs are a treasure trove of things that you won't hear anywhere else.
Here are some artists that I first heard on The Dr. Demento Show:
2nu (This Is Ponderous)
The Barefoot Man (I'm A Scuba Diver)
Captain Beefheart (Apesma)
Devo (Shrivel Up)
The Squirrel Nut Zippers (Hell)
The Firesign Theatre ("fake" commercials)
Stan Freberg (Wunnerful, Wunnerful)
Rupert Holmes (Timothy, by the Buoys)
The Hoosier Hotshots (I Like Bananas)
Spike Jones (Cocktails For Two)
The Justus Brothers (Arnold, My Computer)
Christine Lavin (Sensitive New Age Guys)
Tom Lehrer (The Vatican Rag)
Monty Python (Spam)
Martin Mull (Dueling Tubas)
Randy Newman (He's A Football Hero)
Ken Nordine (The Vidiot)
The Roto-Rooter Goodtime Christmas Band (Martain March)
Peter Sarstedt (Take Off Your Clothes)
Sparks (Under The Table With Her)
Mason Williams ("them" poems)
Frank Zappa (Brown Shoes Don't Make It)
On July 30, 1978, while attending college in Chicago, Doctor Demento used my voice on his show, requesting the Frank Zappa and Burt Ward song "Boy Wonder, I Love You". I received another photo, a free T-shirt, and some Bubblicious bubble gum.
During the 80s I stopped listening as I served a mission, started a career, got married, and started a family. I moved to Colorado, and didn't know what station carried the show. Then at a garage sale one spring day in 1995, I picked up a record that Dr. Demento used to play a lot, and which I had never seen before. (It was a Peter Sarstedt album called "As Though It Were A Movie", for those who are curious.) This started me thinking about the show again. I had a trial account on AOL, and searched around for a Demento interest group. Sure enough, AOL had a Dr. Demento bulletin board, and somebody had posted Scooby's list of stations, which included KBCO, Boulder, Colorado.
I pulled out my old playlists and started entering them on my computer. After finding Jeff Morris' web page, I started working on my topics list, trying to put real dates on my many tapes of old show excerpts.
I phoned in a request for the song "Eugene" by Crazy Joe and the Variable Speed Band, which I'd heard long ago, but never been able to find in any store, and sure enough, Dr. Demento played it on the July 30, 1995 show.
I now listen to the show Sunday nights at midnight on KBCO, Boulder, Colorado. I use the biggest TV antenna that Radio Shack sells, with RF amplifier, a nice tuner and cassette deck. I archive each show using a VHS-HI-FI video tape recorder, which gives excellent sound quality at a modest price.
On May 12, 1996, I was honored when Dr. Demento selected the theme "Utter Nonsense" based on several song suggestions that I made, giving me credit on the show.
On October 12, 1997, I was again honored when Dr. Demento selected the theme "Attitudes" based on suggestions that I made about "Bad" and "Good" attitudes, giving me credit on the show.
KBCO Boulder last aired the Dr. Demento show on August 29, 1999.
Since then I have been downloading mp3 files of the show from those who have been generous enough to share them.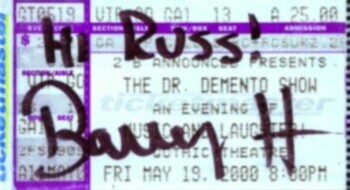 On May 19, 2000, I got to meet Dr. Demento in person, when he brought his show to Denver! I even made a special t-shirt with my Demento Society photo for the occasion.
So if you're bored with inane nostaliga stations, insipid top-40 radio formats, hypnotic elevator muzak, or just want to hear something truly alternative, tune in to the Dr. Demento show and don't forget to stay demented!
On June 2, 2003 XM radio started airing "The Best of Dr. Demento" on Special X, XM channel 30. For a while, I was staying demented via satellite radio. But XM moved the show to "Deep tracks" in 2004, and later to their low-bandwidth comedy channel. Finally, they discontinued broadcasting it in the Spring of 2005. I kept my receiver for a while, because I liked the live concert broadcasts. But eventually I sold it on ebay. (Since their merger with Sirius, I can receive it via Dish-TV, anyway.)
For a while, I listened to the show via online streaming, which had by then become feasible because I finally had a high-bandwidth internet connection. Stations WQMA, WPYX, KRDE and KACV provided me with access to many shows, but Dr. Demento requested that internet streaming should end in August of 2007.
So for the past few years, I have become a subscriber to the Demento Online Club. This provides the income that the Doctor needs to keep producing the shows, and gives me four downloads per week. The D.O.C. is continually adding more shows to it's archives, so I've been able to hear many shows that I missed in past years.

To email me, use this address:

---
Home | Show Topics | Frequently Asked Questions | Guestbook
---
All contents Copyright 1996-2012